August 31st, 2011
Tweet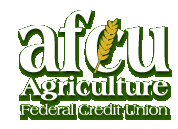 Agriculture FCU
has been around since 1934. They originally served the employees of the Department of Agriculture. There are now about fifty groups that have access to the credit union. Becoming a friend of the CityDance Association for $20 in the past has worked well.
NCUA#
16400
Stats Updated:
06/11
Star Rating:

3 (***)

Assets:
$227.5MM
Equity:
$26.6MM
Capital Ratio:
11.69%
Profits(loss):
$505K
Phone#:
(800)-950-0236
Contact:
Member Service Rep
Address:
1400 Independence Ave, SW
USDA Bldg Room SM-2
Washington, DC 20250
Website:
https://www.agriculturefcu.org/
Agriculture Federal Credit Union often has competitive rates. Especially on the longer-term CD rates. They have been around a long time and it doesn't look like they are going away, anytime soon.
| | |
| --- | --- |
| 1-Year: | 0.90% |
| 2-Year: | 1.20% |
| 3-Year: | 1.50% |
| 4-Year: | 1.90% |
| 5-Year: | 2.25% |
Let me know if you have any experience with this Credit Union.
cd :O)
-- By +Chris Duncan