March 27th, 2012
Tweet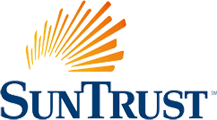 From our good friends at DepositAccounts.com. And I actually do count Ken as a friend. We have shared content and emails before on various subjects.
For other bank reviews, Click Here for the blogs main page or Here for our placement service.
SunTrust Bank is quite a large bank with branches primarily in the South East. They were established in 1891 and obtained FDIC insurance in 1934 during the Great Depression. The original name was Trust Company of Georgia. Over the years, they acquired and consolidated numerous other Trust Company banks and then began acquiring other SunTrust Banks in the 2000. They are a large bank and healthy bank. They will take deposits from other parts of the country. You just have to provide proper documentation.
FDIC#
867
Stats Updated:
12/11
Star Rating:

****

Assets:
$171.3BB
Equity:
$20.6BB
Capital Ratio:
11.99%
Profits(loss):
$663.5MM
Phone#:
(800) 786-7777
Address:
303 Peachtreet Street, Northeast
Atlanta,GA 30308
Website:
https://www.suntrust.com/rates/products/CDRates
SunTrust Bank has decent rates, but the 6-year is fairly competitive at 2.00%. However, the early withdrawal penalty can be quite substantial and is based on the remaining term. For example, if 3-years are left on the term the EWP is 2-years of interest. So if you opt for the long term CDs, it will almost certainly be a "buy-and-hold" situation. They also do IRA CDs.
| | |
| --- | --- |
| 9-Month: | 0.25% |
| 15-Month: | 0.25% |
| 25-Month: | 0.65% |
| 37-Month: | 0.85% |
| 59-Month: | 1.30% |
| 72-Month: | 2.00% |
Happy CD Searching – cd :O)
-- By +Chris Duncan