August 18th, 2011
Tweet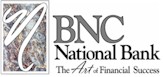 BNC Bank's vision statement: "Delivering financial solutions business people demand". Their logo gives the impression of trying to chart a path through turbulent waters. These days I think that is what everyone is hoping for. However, so many banks have shaken our trust, it will take more than a fancy logo to win us over.
FDIC#
57197
Stats Updated:
03/11
Star Rating:

2 (**)

Assets:
$681MM
Equity:
$58.4MM
Capital Ratio:
8.57%
Profits(loss):
$961K


Phone#:
1-800-BNC-BANK (1-800-262-2265)
Contact:
Customer Service

Address:
20175 North 67th Avenue
Glendale, AZ, 85308
Website:
http://www.bncbank.com/

BNC Bank has mixed reviews. Some focus on their mortgage business. You can read them here: http://kansascity.citysearch.com/profile/41232589/leawood_ks/bnc_national_bank_mortgage_div.html. I always take reviews with a grain of salt. But these seemed to be more honest then most. As always, ask lots of questions and just make sure you are comfortable. If that inner voice continues to be telling you, "No!", it is probably best to move on. They do have an A+ rating from the BBB. A large bank such as theirs is bound to have difficulty pleasing everyone. They only have their savings rate posted online. It is a paltry 0.10%.
| | |
| --- | --- |
| 1-Year: | % |
| 18-Months: | % |
| 2-Year: | % |
| 3-Year: | % |
| 4-Year: | % |
| 5-Year: | % |
They have branches in Arizona, Minnesota, and North Dakota. They are a relatively new bank, being established in 2001. They have grown pretty impressively, but currently with a 2-star rating seems like they might be making some costly sacrifices.
-- By +Chris Duncan